Affiliated with College of Pharmacy and Science
---
Introduction
Our department was founded in 1966, with the goal of nurturing pharmacy professionals to meet the needs of community and industry, and to contribute to knowledge development and technological progress within this field. Since then we have trained countless pharmacists and experts in pharmaceutical technology, becoming a primary source of community pharmacy personnel in Taiwan. Based on decades of experience in the training of pharmaceutical personnel, we have designed a curriculum that not only promotes a sophisticated knowledge of pharmaceuticals and clinical practice, but also encourages students to engage in interdisciplinary cooperation with teams from other fields of health care. We also work hard to improve our students' foreign language skills, in order to enable them to engage with the study of pharmacy at an international level.
Teaching and Learning
The objectives of our curriculum are to provide comprehensive professional training in pharmacy, in order to enable students to move smoothly into employment upon graduation. In addition to intensive training in core pharmaceutical knowledge, we offer modules in pharmaceutical care, pharmaceutical administration and the pharmaceutical and biotechnology industry. We also cooperate with hospitals, community pharmacies, businesses and the University of Southern California's summer internships, in order to promote our students' specialist knowledge and practical ability.
Our master's program emphasizes the development of practical pharmaceutical skills, providing training in both community pharmacy skills and research and development of pharmaceuticals. The research and development stream aims to cultivate personnel for the pharmaceutical and biotechnology industries, while the community pharmacy stream focusses on the training of high-level pharmacy care professionals for hospitals and community pharmacies. In keeping with the practical objectives of the program, the curriculum includes a high proportion of practical classes.
---
Photos
A symposium with overseas scholars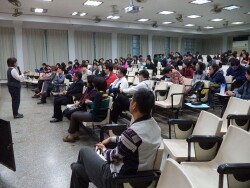 Information session for the Pharmaceutical Care Industry Program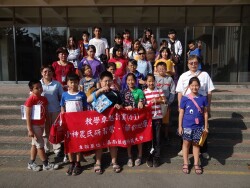 Conducting a children's pharmacy education camp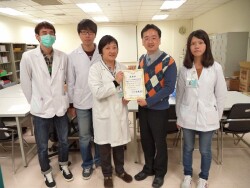 Professor Liou Kuo-Sheng visiting a student intern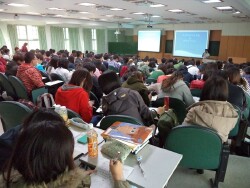 Information session on internships and employment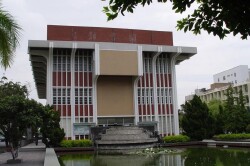 Pharmacy Building P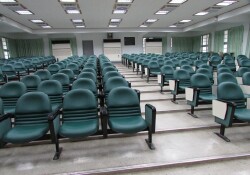 P302 Classroom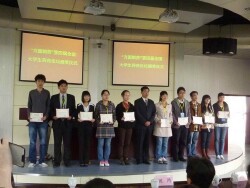 CNU student Lin Chi-Yi (second from left), winner of first prize at the Fangyuan Pharmaceutical and Chinese Medicine Forum, Nanjing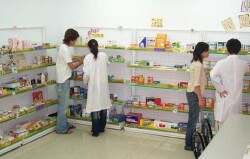 Community pharmacy training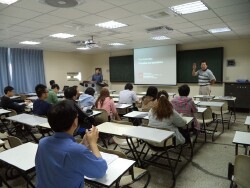 An industry specialist co-teaching a Pharmacy class
An industry specialist showing graduate students how to use instruments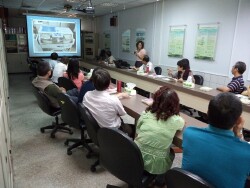 A teacher sharing her experiences of a hospital training session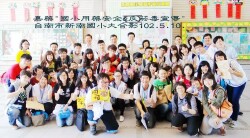 Conducting an information session for elementary school students on the safe use of medicines, and the dangers of smoking and drug abuse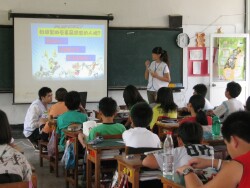 Conducting an information session for elementary school children on the safe use of medicines, and the dangers of smoking and drug abuse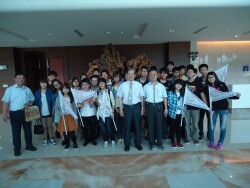 A visit to Timing Pharmaceutical Company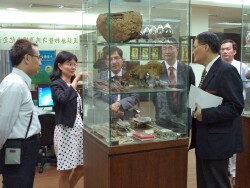 A delegation of Thai scholars visits the Cooperation Center for Herb Development and Health Promotion