Affiliated with College of Pharmacy and Science
---
Introduction
This center was established in order to research and develop new medications, assist industry in the synthesis and application of new drugs, to test health food products, and to develop cosmetics. We aim to stimulate industry-academic cooperation, and improve the overall standard of the industry. Members of our research center include specialist teachers from the Department of Pharmacy, the Department of Medical Chemistry, the Department of Cosmetic Science, and the Department of Biotechnology, integrating the diverse capabilities within the College of Pharmacy and Science. We hope to enhance the competitiveness of both academia and industry, maintaining an orientation towards practical application.
Our center engages in cooperative international research with a number of renowned universities, including the University of Southern California (USC) in the United States, Tokushima Bunri University in Japan, and Shandong University and Jinan University in China. We have produced outstanding results in such cutting edge research fields as fungal genome regulation and secondary metabolite biosynthesis. The results of our research and development of active ingredients in medicinal fungi have been published in journals such as JACS.Org.Leff, and been awarded numerous technology transfers and patents.
Our specific mission is to integrate academic research with the development and mass production of new products for industry, to implement academic-industry cooperation, provide consultancy and testing services for industry, and to organize conferences to promote industry research and development capabilities.
Medium and small group framework
Our center is divided into a drug synthesis group, a biotechnology group, and an active medicinal ingredient assessment group, integrating the university's resources, facilities and staff specialties in order to undertake and complete research projects.
Drug synthesis group: This group focuses on natural medicinal ingredients, and carries out artificial synthesis or biological conversion. Because natural medicines are difficult to obtain, produced in small quantities, and difficult to extract, this group explores the feasibility of using a biochemical engineering approach to produce compounds that work in the same way and display similar efficacy.
Biotechnology group: This group applies the experimental techniques of biotechnology to the research and development of new medicines and medicinal products. Natural Chinese herbs, for example, are often difficult to obtain or grow too slowly, which leads to high prices. It is possible to use biotech methods of artificial cultivation or extraction to produce these ingredients, which is of great assistance to their application in products at a reasonable price.
Medicinal ingredients evaluation group: This group engages in the evaluation of active ingredients in drugs, cosmetics and health food products, as well as stability testing and safety testing. We carry out in vitro experiments on product lines, cellular experiments, microbiological testing, and animal experiments, in order to assess product safety and efficacy. We also perform toxicity tests and antioxidant analyses.
---
Photos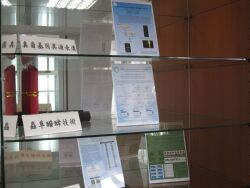 Core technologies of the Center: Heterologous expression of fungal genes, fermentation techniques for Chinese caterpillar fungus, and biological conversion techniques for Chinese medicinal herbs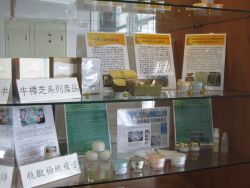 Product series produced by the Center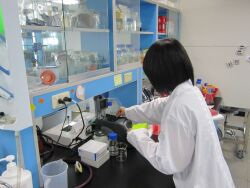 Polymerase chain reaction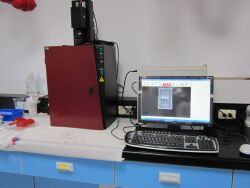 Electrophoresis film camera system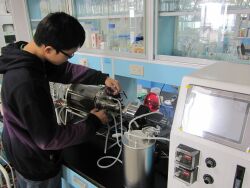 Trial production solid fermentation tank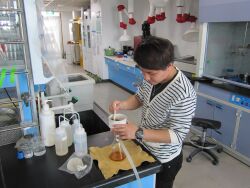 Fermented liquid filtration experiment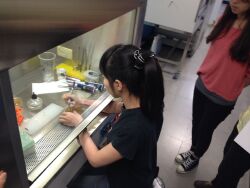 Sterile work station and fungal culture experiments
Apparatus for concentrating under reduced pressure
High performance liquid chromatography (HPLC)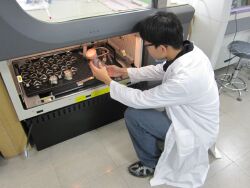 Liquid culture of fungal mycelium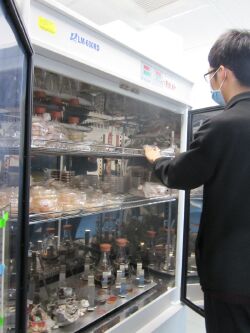 Culturing solid and liquid fungal mycelium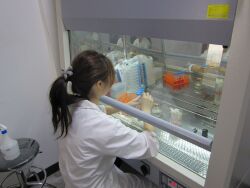 Culturing Mammal Cells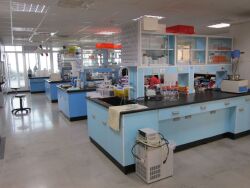 Center Laboratory
Center Meeting Room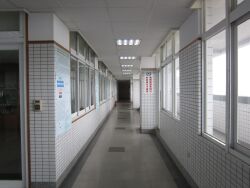 Drug Discovery and Development Center