Affiliated with College of Recreation and Health Management
---
Introduction
The Department of Tourism Management was established in 2005, and in 2012 was merged with the master's program in Hot Spring Industries. In this integrated form, we aim to cultivate professionals in the fields of leisure travel commentary, tourism industry operation, cultural tourist guiding and spa industry planning. Our educational goal is not just to train students with relevant skills for the tourism industry, but also to extend our program into the whole community, encouraging students to participate in public discussion of tourism-related affairs.
On graduation, our students are qualified to work in tourism industry, both locally and internationally, and are competent in the application of internet-based tourism management systems. To achieve this aim, our program focuses on the following areas of expertise:
Competence in foreign languages, and the ability to apply an international perspective to tourism-related issues.
Skill in the application of information technology, particularly as it related to the tourism industry.
An appreciation of art, culture, and the humanities, and an ability to establish and maintain good personal relationships.
The ability to manage one's own emotions, and understanding of cross-cultural etiquette.
Professional licenses and certifications in fields such as tour management and airline reservations.
Teaching and Learning
Our undergraduate courses are based on the needs of labor market within the tourism industry, with a particular focus on developing skills required for information systems and professional management. In addition to required courses in tourism resources, regulations and management, students may take electives in such fields as tour guiding, travel agency work, e-commerce for the tourism industry, and so on.
Our master's degree program takes the operation of the hot spring industry as its core, focusing on such issues as the promotion of hot spring resorts, industry trends, hot spring quality technology, planning and community development of hot spring areas, and so on.
---
Photos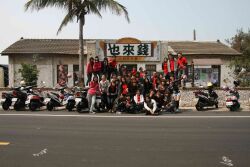 Exploration of tourism resources on the Yunlin-Chianan scenic route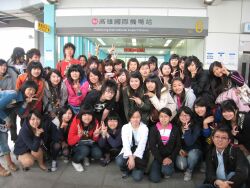 Field trip to Hsiao Gang Airport in Kaohsiung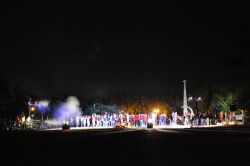 Party for new Freshmen at Wushantou Reservoir
Work experience at a travel exhibition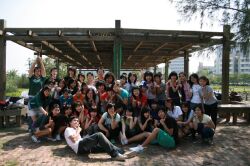 Barbecue in CNU's artificial wetlands
Motorcycle eco-tourism field trip to Sicao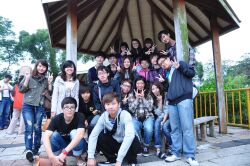 Conducting a resources survey for Erliao sunrise tourism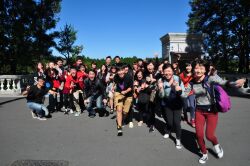 Field trip to the Formosan Aboriginal Culture Village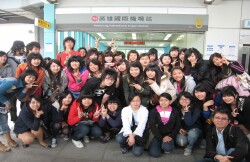 Practical class in airport departure procedures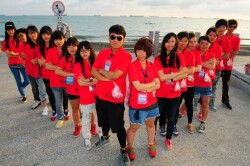 Enthusiastic leaders of the Student Association
Eco-tourism in Teng-chih Forest Recreation Area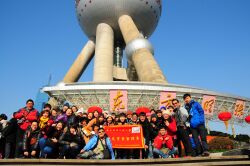 Practical class in overseas tour leading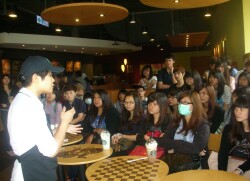 Field trip to Starbucks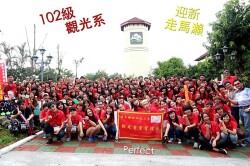 Activity to welcome new students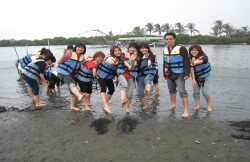 Eco-tourism class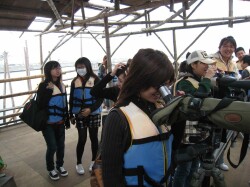 Learning about bird identification in an eco-tourism class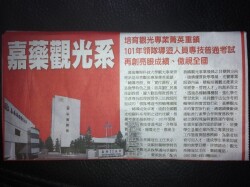 Highest certification pass rate in Taiwan!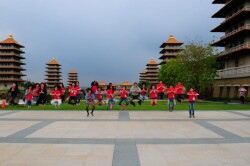 Department tour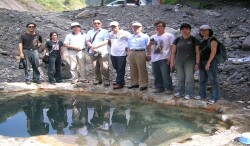 Field investigation in the Baolai hot springs district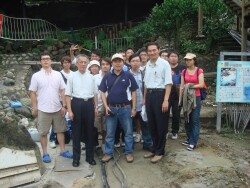 Field trip to Guanziling hot spring district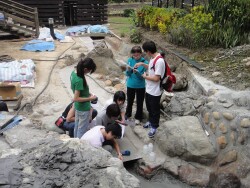 Collecting samples from hot springs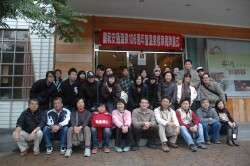 Field trip to Yuli hot spring district in Hualian