Affiliated with College of Humanities and Applied Information
---
Introduction
Our department was established in 1998, in order to coordinate with national economic planning and development policy, and the establishment of the Southern Taiwan Science Park, the Kaohsiung Software Technology Park, and the Asia-Pacific Regional Operations Center. Our aim is to cultivate students' basic skills in information management, and to train them in the application of information technology in business. We particularly focus on the development and application of information management in the field of medicine and health, in order to train personnel with the information management skills needed by the medicine and health care industries. We also strengthen students' knowledge of the fields of e-business and digital content. Our courses aim to achieve a balance between breadth and depth, with teachers and students working actively together on developing electronic services and industry-academic cooperation. At the beginning of the 21st century, computerization and digitization had already become a basic requirement of industry, with organizations in every field striving to improve the efficiency of their work. In the past few years, there has been an even more dynamic movement towards the digitalization, mobilization and "ubiquitization" of business, in order to improve competitiveness. Under these circumstances, the training of information management specialists has become crucial.
Teaching and Learning
The core of our department's curriculum focuses on teaching students information technology and management skills. Classes emphasize practical operation of all kinds of information management, in order to ensure that after graduation they are able to flexibly apply the skills they have learned in the actual processes of business. We have also planned project-based courses that train students in the integration and analysis of knowledge from all kinds of specialist fields.
Our required courses can be divided into two main streams: information technology skill and management knowledge. The former includes courses such as interactive multimedia webpage design, programming, and systems analysis and design, while the latter includes courses such as management studies, economics, accounting, business software packages, and statistics. Elective courses fall into the categories of health industry information management, digital content application and management, and e-commerce.
Our department employs teachers from industry with rich practical experience, in order to teach students practical skills. In addition, our department has recently made professional internships a required element of our program. We are working hard to establish relationships with information technology businesses and health care institutions, in order to promote internship opportunities for students. These internships will enable them to apply the skills they have learned at school in real workplace situations, and thus increase their employment competitiveness.
---
Photos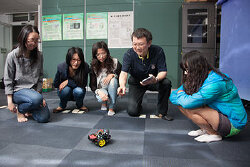 Practical class in Lab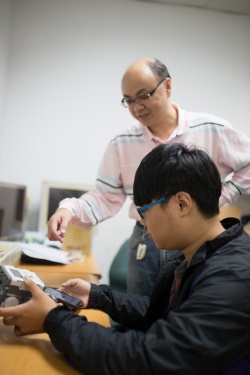 Practical class in Lab
Group photograph on school sports day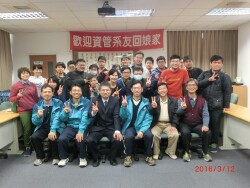 Third general meeting of the Alumni Association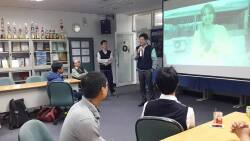 Outstanding alumni delivers a presentation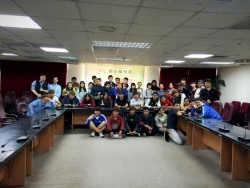 Teachers and students on a field trip to Tainan Hospital, MOHW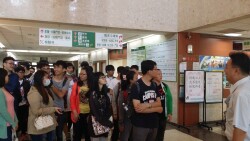 Teachers and students on a field trip to Jian Nan Psychiatric Center(JNPC), MOHW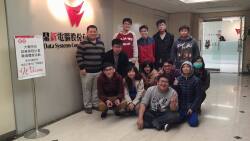 Teachers and students on a field trip to Digiwin Software Company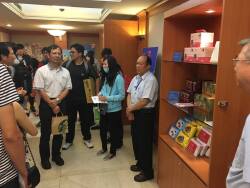 Teachers and students on a field trip to TON YI Industrial Company
CNU student Kuo Chia-Zi, winner of her age division in the 50 meters breaststroke at the National Olympic Swimming Competition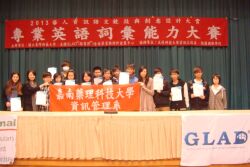 Prizewinning students in the ESP vocabulary section of the 2013 Chinese Computer Language and Innovative Design Competition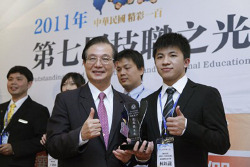 CNU student Lin Yu-Long, winner of the "Light of Technological and Vocational Education" Competition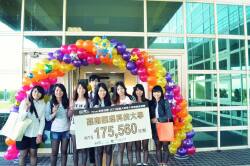 Student prizewinners at the EC-IC 2013 Electronic Industries Innovation Competition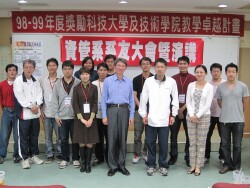 Student Association meeting and speech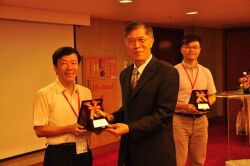 Department award for Outstanding Promotion of the Enterprise Information Planning Licence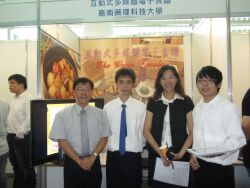 Professor Liu Chih-Chung and prizewinning students in the Summer Vacation Software Development Camp competition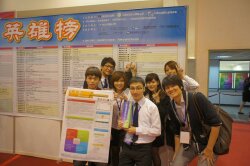 Students attending the Information Service Innovation Competition
Teachers and students on a field trip to ASE Semiconductor Manufacturing Company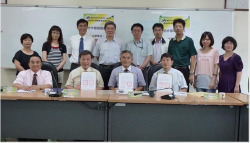 Signing an MOU with National Tsengwen Commercial Vocational High School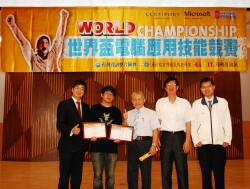 CNU student Chang Shi-Yang, winner of both Excel and PowerPoint divisions of the 2013 Computer Technology Application World Cup, southern district competition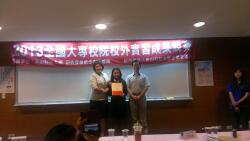 CNU student Wu Pei-Shan, winner of third place in the National Universities External Internship Achievements Competition
2013 camping activity to welcome new students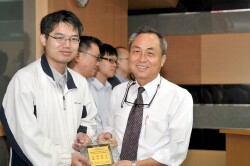 Award for outstanding contribution to the Science Park Personnel Training Project (Chair Su Chih-Yuan, left)